Capture the grandeur of the twister with this impressive light up tornado lamp. With a motorized vortex maker at the base and multiple RGB LEDs, all this tornado lamp needs is a bit of water and an outlet plug to become the coolest nightlight bedroom lamp any kid could ask for!

Our NO-RISK MONEY-BACK Guarantee takes all the worry out of ordering.
And now, with FREE Holiday Returns until February 2019, there's no reason not to give SensoryMoon products a try. Simply try out our tornado twister lamp until 2/1/2019, and if you or your child don't love it in that time, we'll return it for a full refund. No questions asked.
---
An Awe-Inspiring Display of Whirling, Color-Changing Water
SensoryMoon's Tornado Lamp is a modern "spin" on the classic tornado in a bottle. Outlet powered for continuous operation, this cool nightlight generates a stable, standing water vortex inside a large, transparent tube body using a quick rotating motor at the base. Plus, with multiple light-up options that can illuminate the tornado with up to 20 different solid color or color-changing backdrops, this tornado twister lamp is a sure-fire way to impress the natural disaster loving kids in your family.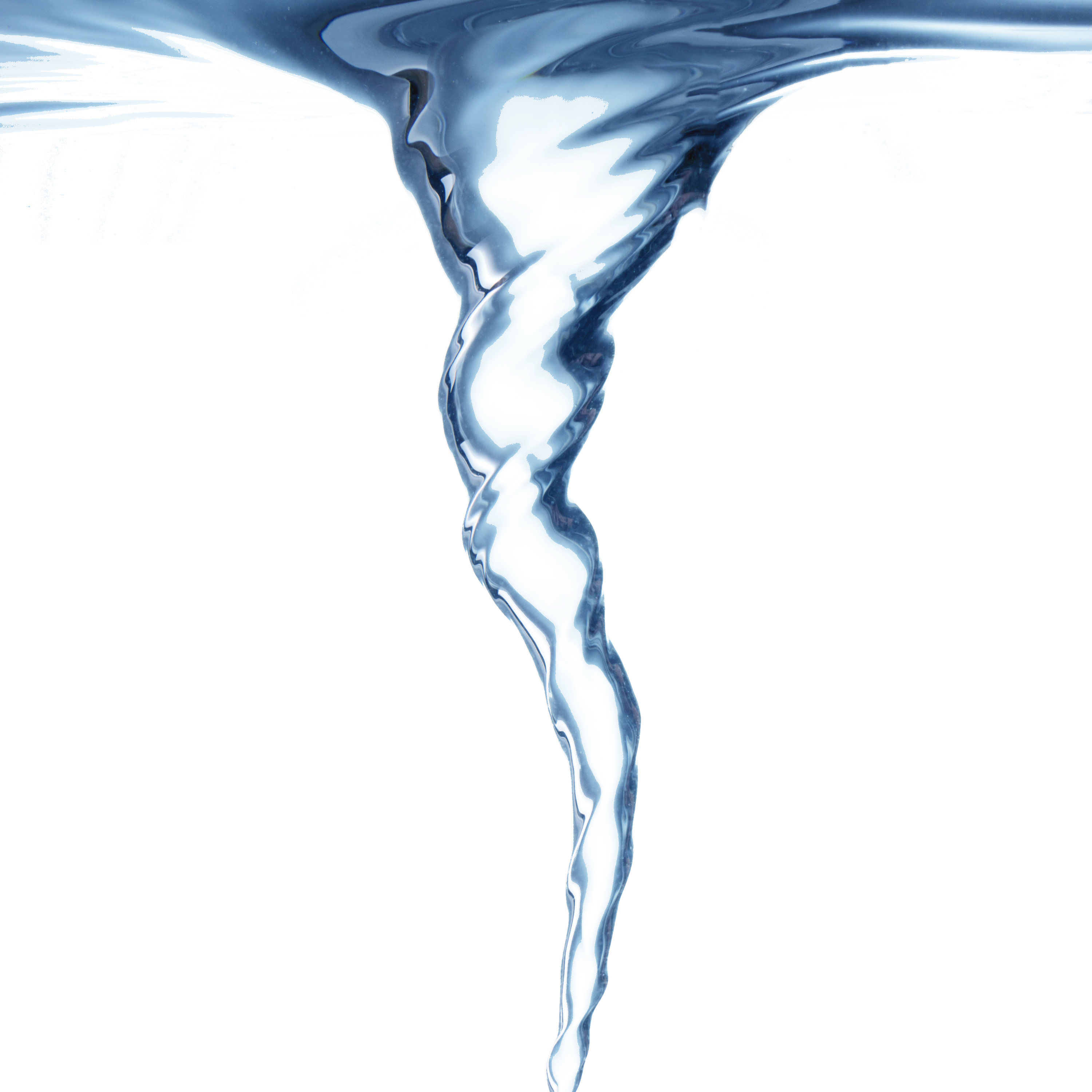 WATER VORTEX MOTOR FOR A PERSONAL BEDSIDE TORANDO. Our tornado lamp uses a specially engineered motor to generate a swirling vortex inside water, captivating the attention of anyone watching. Plus, since it doesn't require any specialty fluid, this refillable water vortex lamp is much more likely to last than its closed-off counterparts. An awesome gift for kids who are fascinated by twisters, the SensoryMoon tornado lamp is a great way for your child to keep a "pet tornado" by him all night!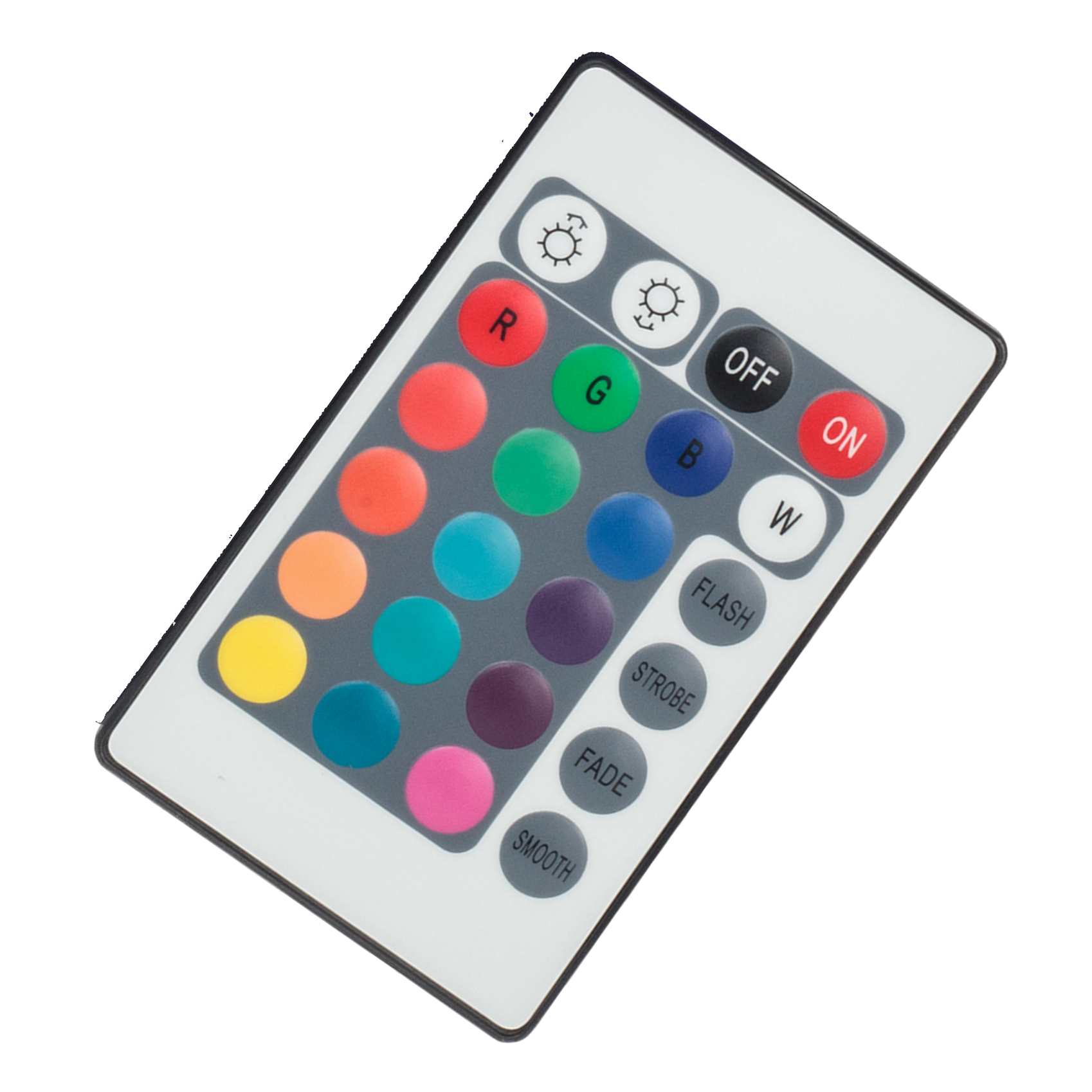 RGB REMOTE CONTROL FOR ULTRA-COOL ILLUMINATING EFFECTS. As if the motor-formed water tornado wasn't enough, multi-color LEDs at the base also work tirelessly to add an entrancing touch to the lamp's captivating water effects. Your child will be able to choose from up to 20 different color options, including 4 color changing settings, to set the perfect atmosphere for his or her room. He will love to stare into the never-ending water tornado as the lamp lights up in bright-colored magesty!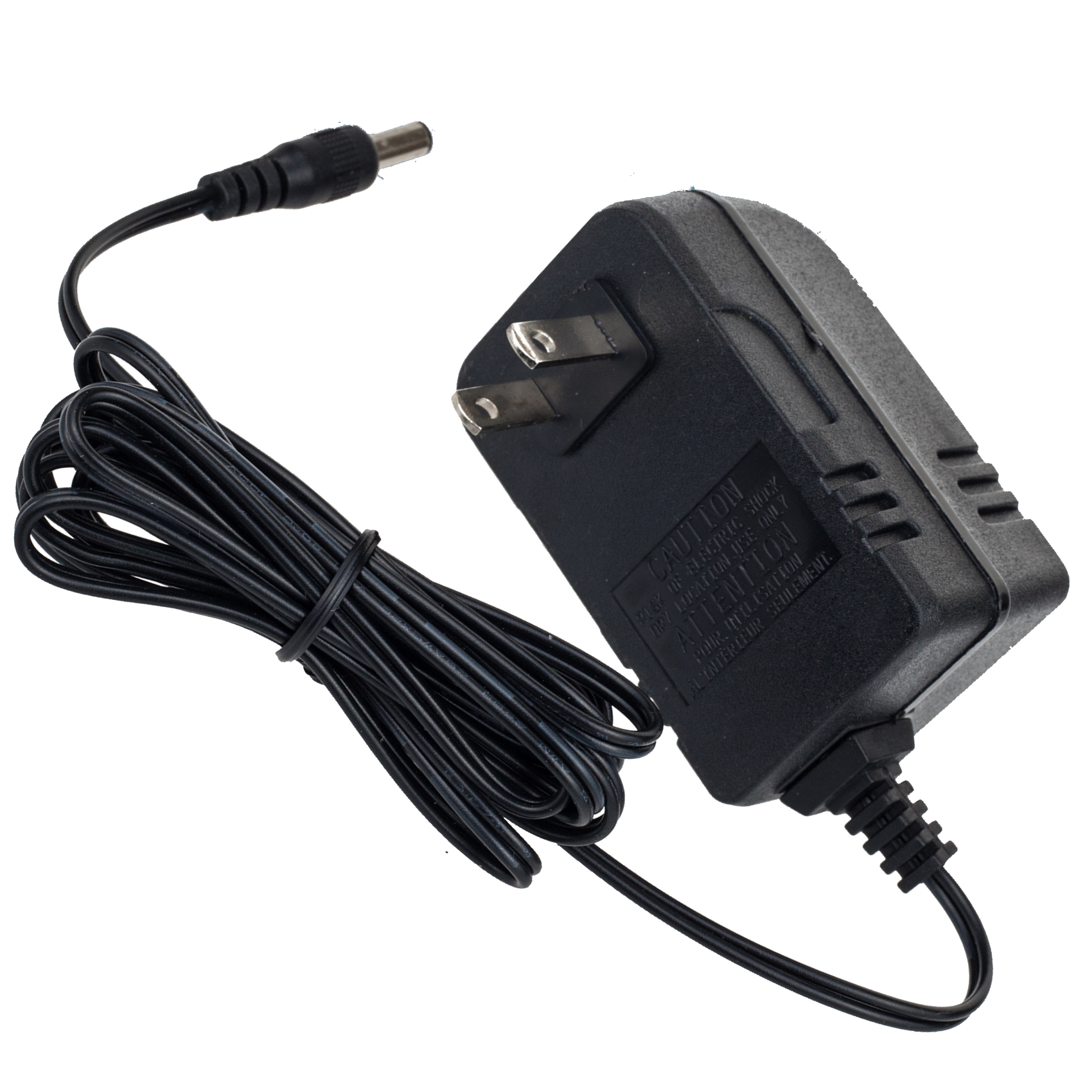 OUTLET PLUG OPERATED FOR AN ENDLESS "TORNADO IN A BOTTLE". Say goodbye to manually swirling bottles for short-lived liquid tornadoes. Because the SensoryMoon tornado lamp is power outlet operated, it continues to generate a water vortex as long as it is turned on! Plus, since it doesn't use quickly depleting AA batteries like some other alternatives, this tornado lamp is the perfect nightlight to run non-stop in your child's bedroom! So what are you waiting for? Order one today!
---
Makes an Awesome Gift for Natural Disaster Lovers!

There is something incredibly captivating about the twister --- from its spontaneous beginnings from mere air currents, to its brutal, unrestrained motion at full form, the humble tornado has captured the imagination of all of us at one point. And now, you can capture some of its graceful power for your child with this dazzling bedside sensory lamp.
Imagine your child tucking himself into bed every night, staring deeply at the water vortex from the side of his bed before drifting off into imaginative sleep. A popular nightlight for boys who are fascinated by extreme weather, the SensoryMoon tornado lamp is one gift item we are confident you won't regret purchasing!
Fascinates Kids for the Coolest Nightlight Around!
There is nothing more entrancing than staring into a steadily swirling water vortex --- well, except maybe if you add some color changing effects to it! The SensoryMoon tornado lamp is an awesome children's nightlight that will be sure to make all the friends from school jealous, and all without breaking the bank.
Imagine your niece, nephew, or grandchild setting up the tornado lamp, only to have their eyes light up when the water currents form into a tornado for the first time. SensoryMoon lamps are known to dazzle and impress kids of all ages, and our classic tornado lamp is no exception!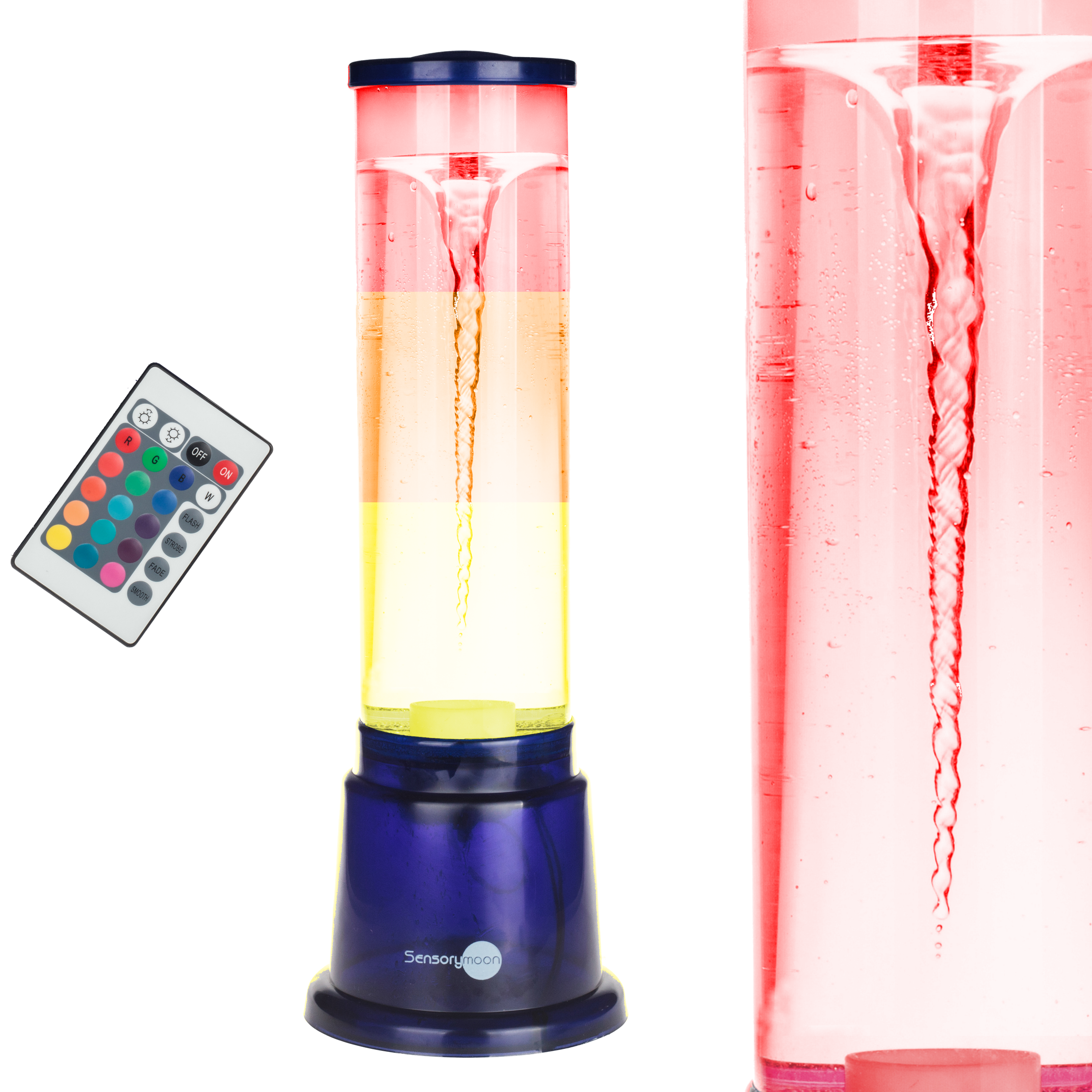 I bought this for my son who has autism.

"... He is obsessed with the twisting of the toilet water when flushing. So it's difficult to keep him out of the bathroom. This way he can see and touch funneling water.
It is fragile though so he has to be monitored..."
- Sheri S
February 25, 2018
---

"Great product. My 6 yr old loves it. We set it up and he can turn it on and change colors any time he feels like playing with it... My son was happy just watching it form. Overall ver happy with the product and seller was quick to ship."
- Babycakes72
July 22, 2018
---

"We've only had this item a week, but so far my 7-year-old son loves it! He loves to change the colors and, as suggested in the instructions, he added in some pieces of aluminum foil which is really fun to watch go around..."
- silkyhorse
April 21, 2018
New! Check out what's inside the box:
Features:
Dark Blue Base & Cap
Clear Acrylic Tube
Power Adaptor Included
Water Vortex Maker
RF Remote Control:

16 solid color options
4 color transition options
brightness and on/off adjustment
battery included
Specs:
Lamp Height: 36 cm / 14.1 inches
Tube Diameter: 8 cm / 3.1 inches
Material: ABS (base) & PMMA (tube)
Power Adaptor: 12V AC 300mA
LED: 9 pcs RGB
Power: ≧ 3.6W
- We accept all major forms of payment, including the following credit cards:
VISA
Mastercard
American Express
Discover
JCB
Diners Club
- We also accept payments via PayPal, Amazon Pay, Google Pay and Apple Pay.
- Payments are 100% secure and your credit card information will not be shared.
🚚 We are happy to offer FREE Expedited Shipping on all orders within the Continental United States! ✈️
- Most of our products are in national fulfillment centers so you can typically expect 1 business day for processing and 2-3 business days for shipping.
⚠
IMPORTANT UPDATE (11/21/18): due to extremely high demand, most orders will not ship until around December 16th, 2018.

➡️ We are working tirelessly to get a new batch of lamps ready to ship! Don't worry, your order will still arrive well before Christmas.
- For our international customers: at the moment we only ship to Canada. We offer standard shipping for a flat rate determined at checkout.
⛄🎁 We're excited to announce FREE Holiday Returns until Feb 2019! 🙏🙌
- If for any reason you are not completely satisfied with your SensoryMoon products until February 1st, 2019, you may return your items for an exchange or full refund. We will even pay for shipping! No questions asked. 🤝

- This is in addition to the 1-year warranty we already offer for all our products.
- Just send us an email at support@sensorymoon.com with your order information and we would be happy to care of you.
- We take all the risk out of ordering by offering an unmatched 100% satisfaction guarantee. We'll always do our best to take care of you.
---
---
What Are SensoryMoon.com Customers Saying About This Item?